Gifts of Joy Bundle
A Celebration of Culture, Tradition, and Togetherness
This bundle, "Gifts of Joy," is a perfect way to celebrate the Festival of Lights. Aarika's Closet Sari Dresses and Every Girl Dolls come together to offer a unique gift that allows young South Asian girls to explore and cherish their cultural heritage. The sari dresses represent the elegance and beauty of Indian traditions, while the Every Girl Dolls add a special touch by introducing a companion that reflects their culture and identity.
What makes this bundle even more special is that it includes matching dresses for both the doll and the girls. This allows them to enjoy the fun and excitement of wearing matching clothing, creating a deeper connection between the dolls and their young owners. It's a gift that brings joy and a sense of togetherness during the festivities, fostering a deep connection to their roots and the warmth of the holiday season.
Shop Now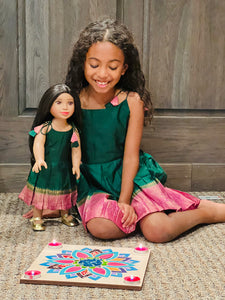 We Create Dolls That Celebrate Every Girl
Hey there! At Every Girl Dolls, our mission is to help kids explore and celebrate their identity through play. Our goal is to create dolls that represent all backgrounds and celebrate cultural identities through ethnic clothes and accessories that inspire kids of all ages.
Our first doll, Laila, is South Asian and celebrates the background of both our founders.
Representation matters - in life and in play. We want to help kids celebrate what makes them special!
Meet us!